Test Drive 2019 Mitsubishi Outlander PHEV in Thornton CO
  View Inventory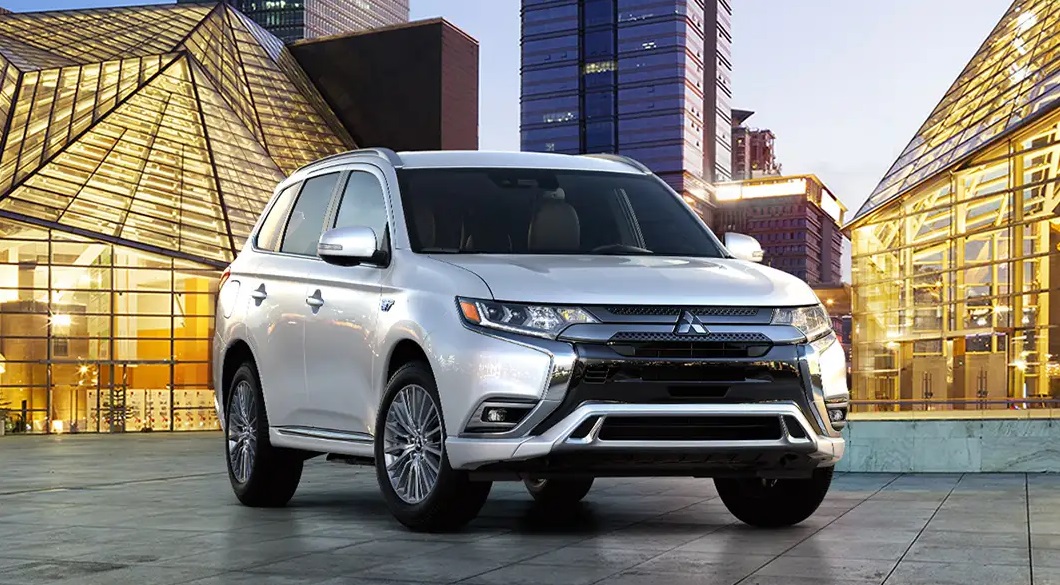 Vehicle Overview
Denver Area drivers seeking cost-effective transportation for up to five people will want to take a close look at the popular 2019 Mitsubishi Outlander PHEV. This hybrid gasoline and electric powered SUV includes some impressive automotive technology. It provides two trim models: the basic SEL S-AWC and the slightly more expensive GT S-AWC. See the Outlander PHEV while supplies remain in stock at Skyline Mitsubishi in Denver. Drivers in Thornton Colorado won't want to miss the chance to test drive one of these exciting vehicles along local roadways. Now you enjoy a great opportunity to evaluate the performance of this popular hybrid model!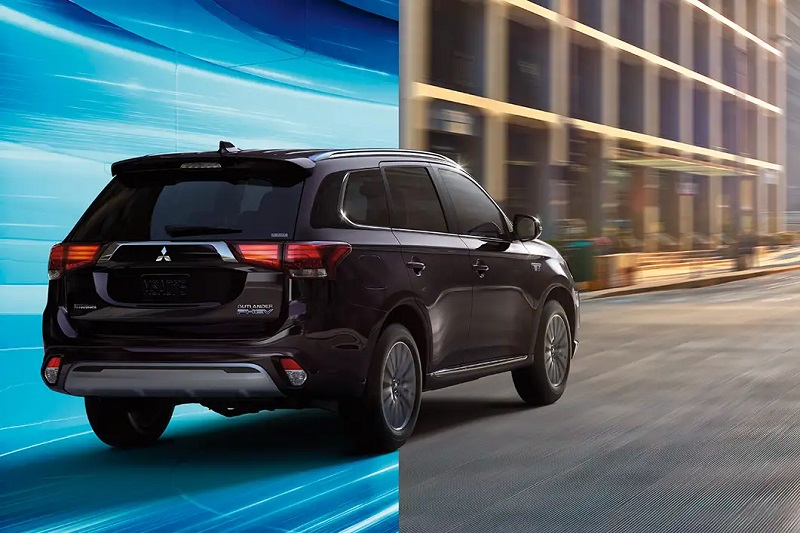 Exterior - 2019 Mitsubishi Outlander PHEV
When you see this SUV at Skyline Mitsubishi, take a minute to admire its aerodynamic profile. Smaller and lighter in weight than many sports utility vehicles, the 2019 model maintains a long, nearly flat roof. The vehicle offers four doors and a rear power lift gate. Select the Outlander PHEV in one of six popular paint colors (including Ruby Black Pearl, Rally Red Metallic, or Pearl White). The Outlander PHEV measures 67.3 inches in height and extends 184.8 inches in length. Colorado drivers appreciate this sleekly contoured sport utility vehicle's ability to transport people and cargo in style, and to tow up to 1,500 pounds. Can you picture the attractive 2019 model parked near your front door?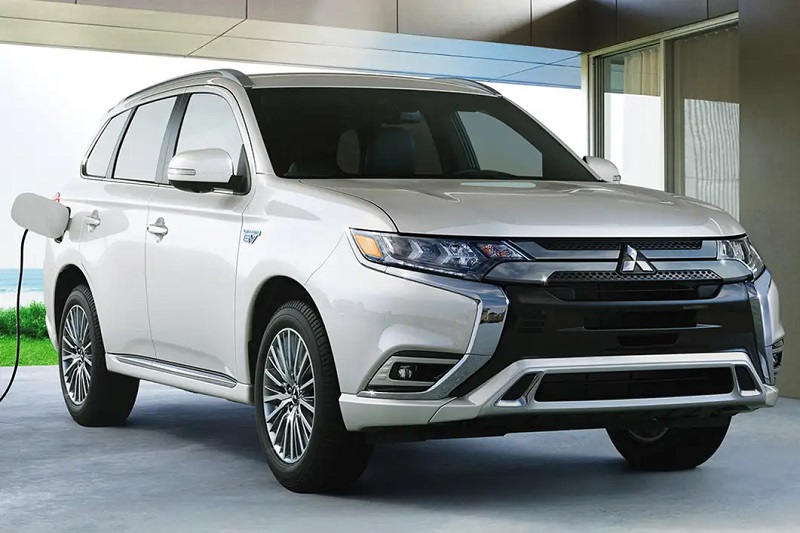 Interior - 2019 Mitsubishi Outlander PHEV in Thornton CO
When you open the driver's door, take a moment to run your hands across the carefully detailed double stitching in the vehicle's interior. The seating and the attractive cabin accents testify to the care Mitsubishi's talented designers took to create a really welcoming, comfortable travel environment. The décor relies extensively upon vinyl and lightweight plastic accents in order to reduce the total weight. This small sports utility vehicle offers two rows of seats with both front and rear standard USB ports. The manufacturer placed the 2019 Mitsubishi Outlander PHEV battery array beneath the floor to maximize available cabin storage space. Select fabric seat coverings or available leather.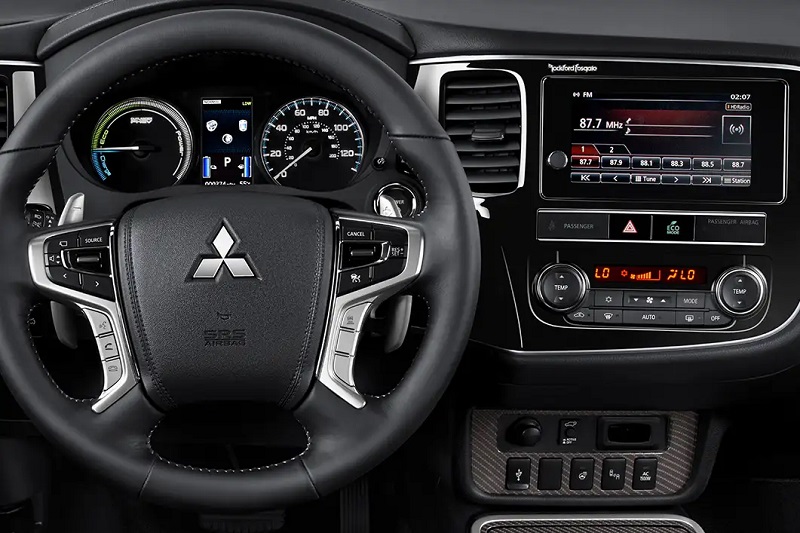 Mechanical - Mitsubishi Outlander PHEV specs in Thornton
The lovely 2019 Outlander PHEV enjoys a range of roughly 74 miles, and it will travel for a 22 mile distance based on its electrical charge alone! Drivers simply re-charge the battery at a charging station and add gas to the tank. (In some cases, a standard 120 Volt household garage outlet serves as a charging station for this innovative vehicle.) The 2018 model ranked as the top selling plug-in hybrid sports utility vehicle in the world.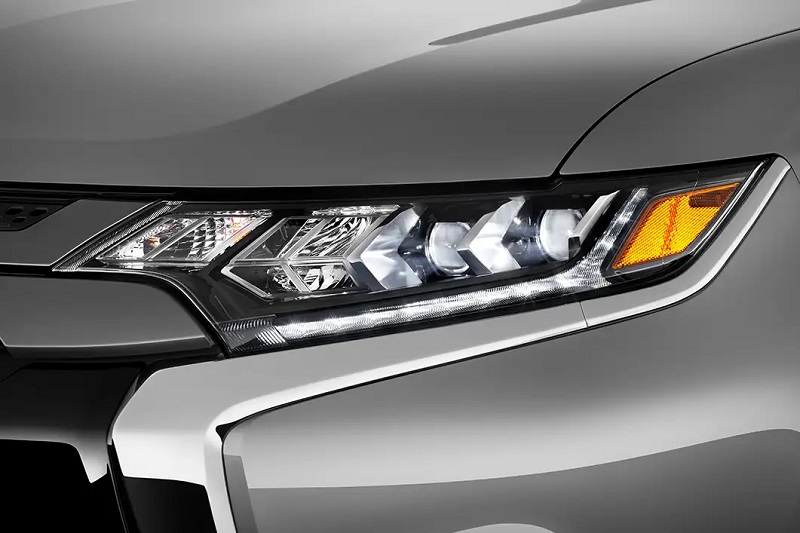 Powertrain - Mitsubishi Outlander PHEV specs in Thornton CO
The current model recently earned the distinction of winning an award from the Green Car Journal. Mitsubishi's engineering team placed a gasoline powered engine and a generator in the front of the vehicle, together with a front primary electrical motor. A rear electrical motor and a row of batteries beneath the floor of the SUV also form important powertrain components. Together with this vehicle's awesome available camera and motion sensor capabilities, the 2019 model reflects exceptional automotive engineering. Don't miss your opportunity to test this exciting SUV in Thornton Colorado soon. Bring along your questions concerning power station requirement and charging procedures. We'll point out engineering features of personal interest to you during your visit.
Safety - 2019 Mitsubishi Outlander PHEV dealer
Of course, Mitsubishi prizes customer safety. In this respect, the 2019 model of the Outlander PHEV offers welcome reassurance to many Colorado drivers. The SUV's hardy high-steel metal framework seeks to safeguard cabin integrity. Mitsubishi offers standard illuminated door locks, as well as multiple air bag systems and strong seat restraints. The manufacturer has even included standard engine immobilizing technology to assist customers in recovering the vehicle after a theft. (The company supplies a standard theft deterrence alarm system, too.) In addition to all these features, drivers enjoy several standard high tech alert systems and a number of available ones. A standard rear view camera and an available multi-view camera system round out these advanced innovations.
We suspect you may discover you've fallen in love with the 2019 Outlander PHEV when you drive it in Thornton this year. Don't wait to explore this exciting vehicle. It suits many Colorado drivers. Contact us now to let us know about your interest in conducting a road test. We'll help you begin the process of becoming better acquainted with this remarkable SUV.