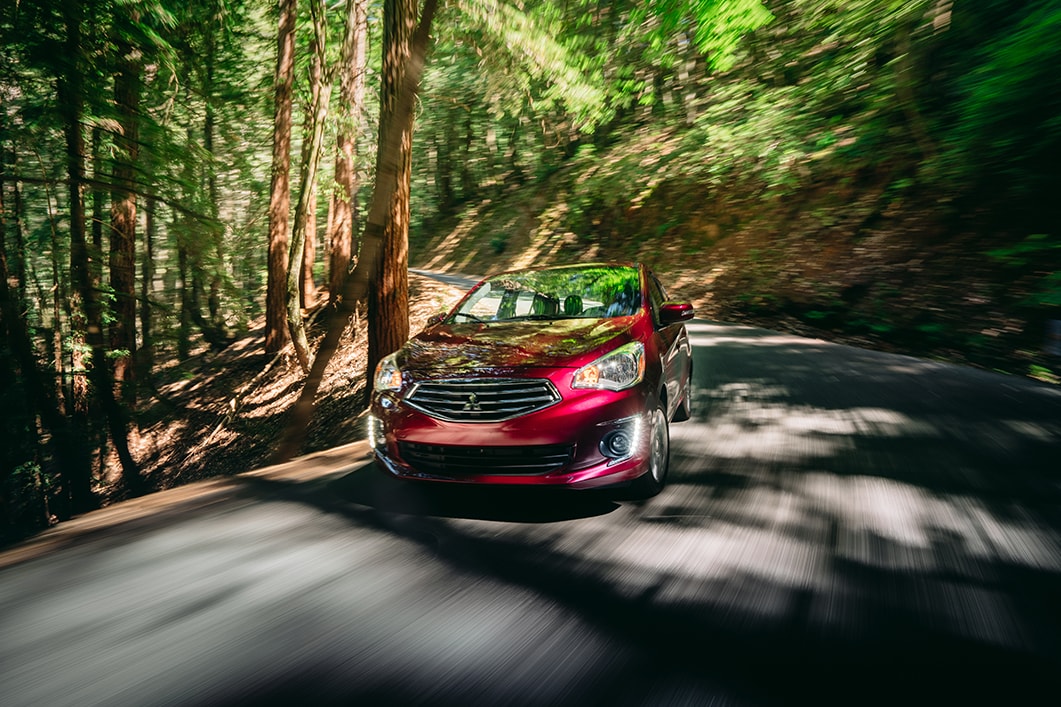 Why Buy 2018 Mitsubishi Mirage 4 - Denver CO
It's not a mirage, when you see this vehicle it's the real deal. The Mirage 4 is intended to help you get where you're going with better overall style and reliability. Come down and explore all of the unique features of this small but highly capable vehicle. You'll love how well this car works to get you where you're going, protect you and your passengers and entertain the entire way. "Why buy" is the question on most people's minds when it comes time to get a new car. When you're considering the 2018 Mitsubishi Mirage 4, the real problem is why not buy this incredible vehicle?
Exterior
14-inch alloy wheels come standard on the SE trim, and you'll also get some fantastic fog lights to make you more visible on the road. The GT model upgrades those wheels to 15-inch two-tone alloy wheels and HID headlamps are included for an astonishing level of clarity. You'll also get the GT badge to let everyone know what kind of vehicle you're driving. Why buy a vehicle from any other dealership, when we have some fantastic incentives and offers available to you. We may even be able to help you out with a lease, but you have to contact us by phone, website or by coming into our dealership.
Interior
The ES model comes with a 7-inch touchscreen audio system that lets you listen to your music in stunning high-quality sound. You'll also get air conditioning and Bluetooth wireless technology to connect your phone to listen to music and stay connected with friends and family. The SE model gives you can upgrade to automatic climate control, Apple CarPlay and Android Auto and a passive entry system to get you into your vehicle faster than ever before. In the GT model, you'll also get front seat heaters to stay warm in the colder months. Our dealership serving Denver Colorado has some incredible options available, but you need to come down to Skyline Mitsubishi in the Denver area to get a great deal.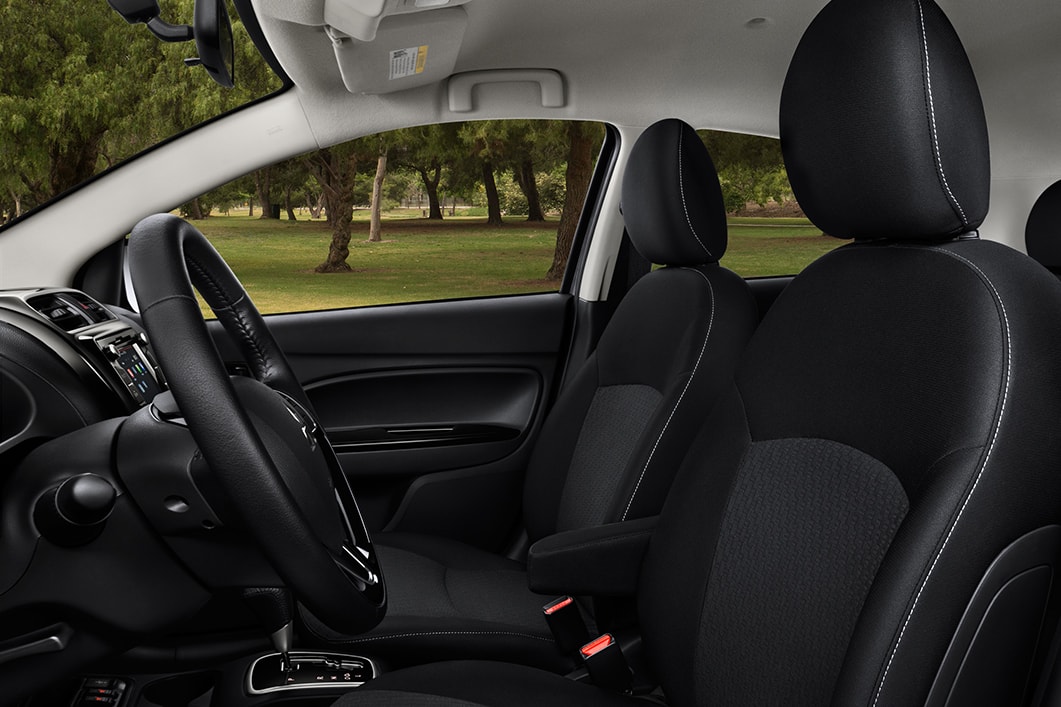 Mechanical
Built for urban adventures and efficient mobility, this vehicle is designed to fit your life. The car offers a small form factor that makes it easy to get around the city. A large car in the city is a burden, and this vehicle is perfect if you want something sturdy enough and capable enough to run your errands. The vehicle has a solid suspension that will give you optimal balance and security on the road. Come down and take this vehicle for a test drive, and you'll find out how amazing the anti-lock braking and mechanical features work to get you a fantastic level of support. The 2018 Mitsubishi Mirage 4 is available on our lot so that you can get a great deal from our dealership serving Denver Colorado customers.
Powertrain
The Mirage offers a 3-cylinder engine that is highly efficient and perfectly designed for city driving. You'll be able to drive longer and spend less on fuel thanks to the smart engine that is designed to give you exactly what you need to get where you're going and run your errands. Visit Skyline Mitsubishi in the Denver area so you can find out how we can help you get an amazing deal on your next car purchase.
Safety
Why Buy the 2018 Mitsubishi Mirage 4? Because this vehicle is powerful, capable and filled with options that will keep you safe. It's one of the best-made vehicles on the road, and you'll be able to enjoy an amazing level of support and reliability. You'll get a full complement of airbags and all the features you need to stay well-protected on the road. Come down and explore everything this vehicle offers to keep you safe, and you'll be glad you chose our dealership to help you out.
Get to know our dealership serving Denver Colorado customers, and visit our Skyline Mitsubishi lot in the Denver area. When you come down to our dealership, we will help you get a great deal on your next vehicle. Come down and see everything this car has to offer so that you can get a fantastic level of service and support from our staff.
*This vehicle is intended for information purposes only, please contact the dealership for current offers and information.