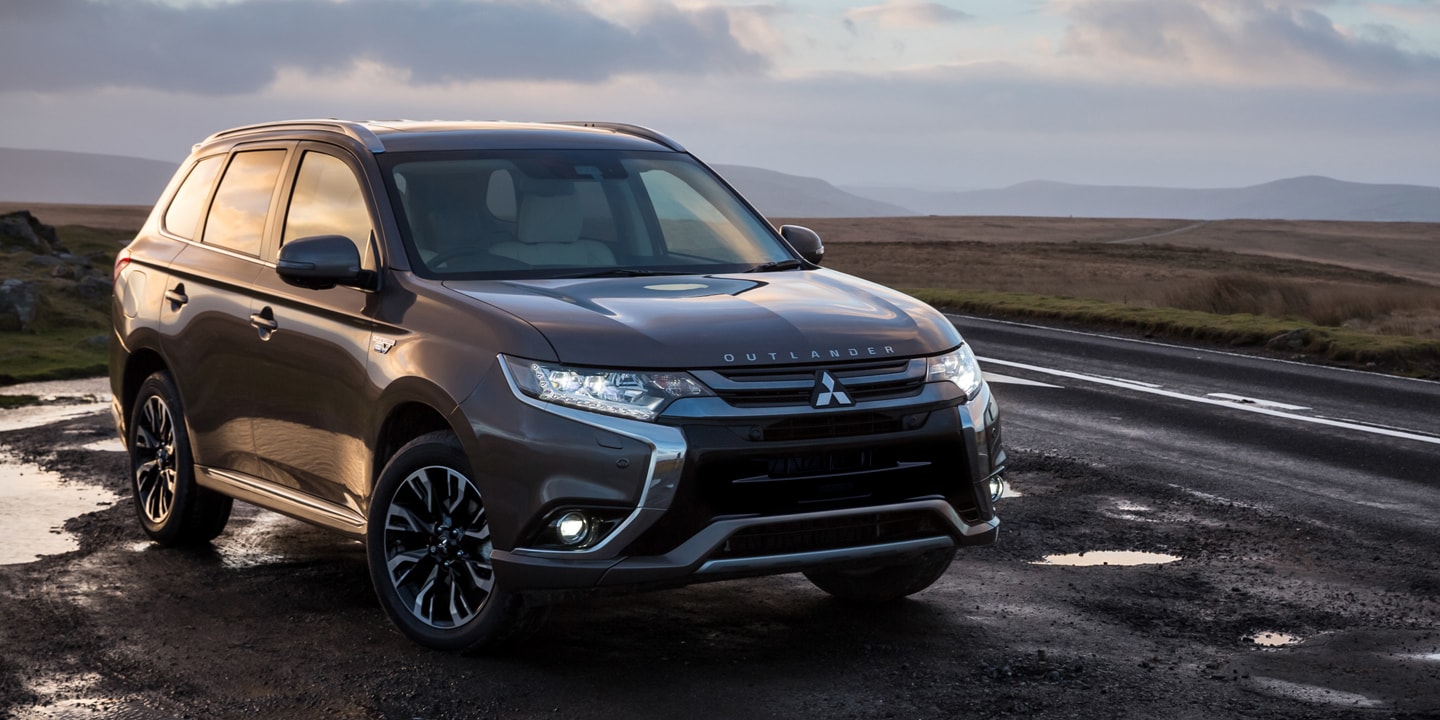 2018 Mitsubishi Outlander PHEV l Thornton CO
It can be challenging to find a quality SUV that appeals to your aesthetic senses and that has all of the features that you desire in your next vehicle. More than that, if you are looking for a green vehicle in Thornton Colorado, your challenge may seem more complicated. However, one look at the 2018 Mitsubishi Outlander PHEV may tell you that this is a stylish hybrid vehicle that you want to take a closer look at. This 2018 Mitsubishi model has all of the functional features, comfort features and fuel-saving features. You can reach out to Skyline Mitsubishi for more information about what this SUV offers.
Exterior - Reasons Why to Purchase the 2018 Mitsubishi Outlander PHEV
You may have seen other drivers cruising around in the Outlander PHEV, so you may know first-hand how eye-catching the exterior of this SUV is. It has an exceptional design that appeals to many people, and it is available in six attractive exterior colors. There are many exterior elements that make this vehicle popular with Thornton Colorado residents. For example, this hybrid SUV is equipped with hands-free entry, heated side mirrors, one-touch power windows, roof rack crossbars and a chrome package. The base model is also enhanced with other exterior features, and these include black lug nuts, 18 x seven-inch painted alloy wheels paired with all-season tires, the body graphics option, the exterior option, body side moldings, an exhaust feature, a hood protector and more. When you visit your Thornton area dealer, you can learn more about these base-level options in the Outlander PHEV and upgraded features available for the exterior of your new SUV.
Interior - Why Buy the 2018 Mitsubishi Outlander PHEV
Before you make the decision to buy any hybrid SUV or even to visit your local Thornton dealer, you need to learn more about what this Mitsubishi hybrid SUV model offers. It has an exceptionally spacious cabin with ample seating room for up to five adults. You can choose between two color options for the interior, and all trim levels feature leather upholstery. Both of the front bucket seats are heated, and they have eight-way power adjusting features for your comfort on the road. The base model for the 2018 hybrid model features a rear view camera, side and front cameras, numerous cup holders and storage areas throughout the cabin, adaptive cruise control, a leather-wrapped steering wheel with controls for the sound system on it, electric power steering, rear seat easy-entry functionality, a climate control system, a superior sound system, a universal remote transmitter, dual illuminated vanity mirrors and more. When you visit your Thornton dealer, you will be able to view these features in person, and you can also view more advanced features that are available in superior trim levels. If you are looking for a new hybrid SUV to buy in the near future, contacting Skyline Mitsubishi is a great first step to take.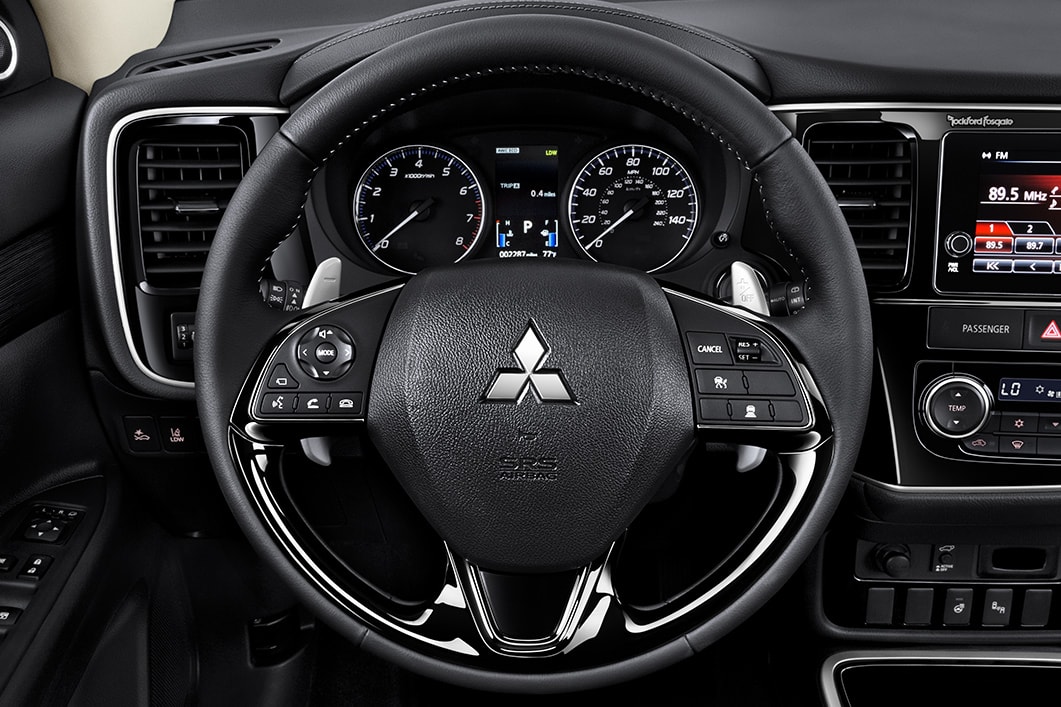 Mechanical / Powertrain
Some Thornton Colorado drivers are under the misconception that a hybrid SUV may not be as powerful or agile on the road as a non-hybrid vehicle, but your misconception will be rectified when you test drive the Outlander PHEV yourself. The base model engine features a 2.0-liter gas and electric hybrid engine with four cylinders. Its hybrid component allows it to use gas as a fuel source much more efficiently than its non-hybrid counterpart. This sporty yet functional SUV also has an all-wheel drive function and a one-speed direct drive transmission to give you a great driving experience. The 2018 model also comes with a five-year, 60,000-mile basic warranty. The rust warranty is for seven years and 100,000 miles, and the powertrain warranty is for ten years and 100,000 miles. If you want to experience how powerful and capable a hybrid SUV can be, contact the dealership today by phone or through the website to set up an appointment for a test drive.
Safety - Why Buy the New Mitsubishi Hybrid SUV
Staying safe on the road is a top concern for any driver, and you do not have to worry about safety as you cruise down Thornton roads and beyond. This green vehicle has exceptional safety features that include emergency braking assistance, a remote anti-theft alarm system, safety and traction control features, fog lights and an immobilization feature for the engine. In addition, your security behind the wheel is also enhanced by headrests for all seats, airbags for front and side impacts, a deactivation sensor for the front passenger seat, a blind spot detection and avoidance feature, child door safety locks and latches for child safety seats and daytime running lights. Regardless of how you plan to use your new hybrid SUV, you can see that this is a vehicle that will help you to stay safe on the road.
Request Current Information, Quotes or Specials
Before you buy a new hybrid SUV from your Thornton dealer, you understandably want to find the best price available. While this is an affordable SUV that also makes your usage costs lower by conserving gas, you may be able to save additional money through special offers. When you contact your local dealership, you can request details about any special offers available.
Skyline Mitsubishi is your leading source for sales on hybrid SUVs in the Thornton area. Contact the sales team by phone or through the dealership's website for more information about the vehicles that you are most interested in.