On March 25th, Doug wrote a letter to all employees stating:  "I wanted to assure you that our goal is to be here for you, to make sure you can continue to earn an income and can take care of your family. We do not plan to make drastic changes and are doing everything we can to maintain your livelihoods."
Since then, other large dealer groups have furloughed a significant portion of their staff. Dealin Doug team members, on the other hand, have expressed their gratitude for Doug's commitment to retaining his employees.
Here is what one had to say: "I want to give a HUGE thank you to Doug for answering a lot of questions we had concerning our job security. I am so grateful to be working here!!!! What a blessing! I am continually praying for this company and my coworkers. You have been totally amazing through this trying time. We just keep smiling and putting our faith and trust in the Lord. Thanks again!!!!"
Recently, Doug was approached by a vendor who said he could save money by using an automated receptionist/attendant at each of his 12 locations. Doug replied: "What? I am NOT going to fire my receptionists!"
In this unprecedented and difficult time, with furloughs happening, and hundreds of people being laid off, the culture of the Dealin' Doug Dealerships shine as a great differentiator!  We are family-owned and operated, in business since 1980, taking care of our customers and staying committed to our employees.  For over 40 years and counting - in good times and in bad - Nobody beats a Dealin' Doug Deal!  If you have that same winning attitude and want to join our family - we are always looking for good talent!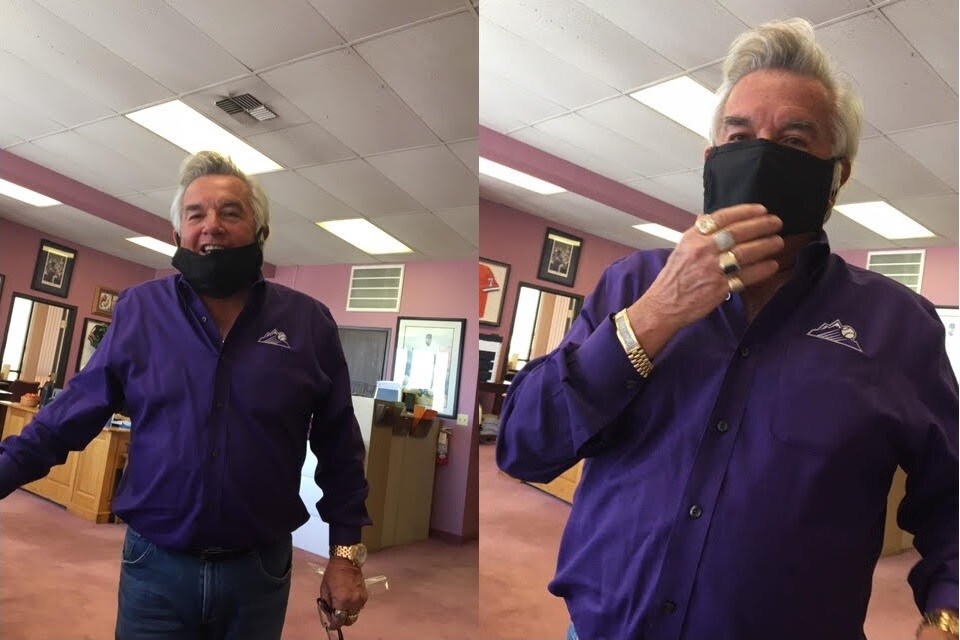 After 40 years in business, Dealin' Doug has seen good times and bad, and Covid-19 is a mighty challenge. We are doing our part, including Doug wearing his mask, at work every day and confident that all will get thru these difficult days.
Dealin' Doug is committed to his employees - if they want to work, they have a job and can provide for their families.
Dealin' Doug is committed to his customers - a reliable vehicle is essential, so DealinDougDealerships.com are open - Some customers are experiencing for the first time how easy it is to have a vehicle delivered. Save time and shop online!
Dealership service bays are open - sanitized and clean, practicing careful, compliant protection and focused on customer's safety, including online service scheduling, early bird drop off, pay online and pick up after hours.
Dealin' Doug wants you to know we are here for you. Nobody beats a Dealin' Doug Deal.
Stay safe and together we will get through Covid-19.
We continue to monitor information from state health authorities and the CDC for their guidance and recommendations on how we can help to prevent the spread of this virus.
Our steps include:

Thorough cleanings of all dealership facilities daily
Sanitizing gel and foam stations available on-site
Providing our staff with specific instructions on hand washing and the importance of staying home if they are not feeling well
Adhering to the recommended six feet of social distance from other staff and customers
We will be adjusting schedules and operations for some of our staff to ensure that we stay well and can continue serving our customers efficiently. These schedule adjustments should have minimal impact on our in-store operations.
Our website is a helpful resource for shopping and researching vehicles, finding service and parts information, and communicating directly with the dealership. We will also continue to offer vehicle pick-up and delivery services.
No matter the department you're looking to reach, we have staff available to answer your questions and assist with your needs. You can connect with a member of our team by phone, email or through our website.
Together, we can maintain a healthy environment and combat the spread of COVID-19.
On behalf of our dealership, thank you for being a loyal customer. Please don't hesitate to reach out as we remain dedicated to serving you for all of your automotive needs through this challenging time.