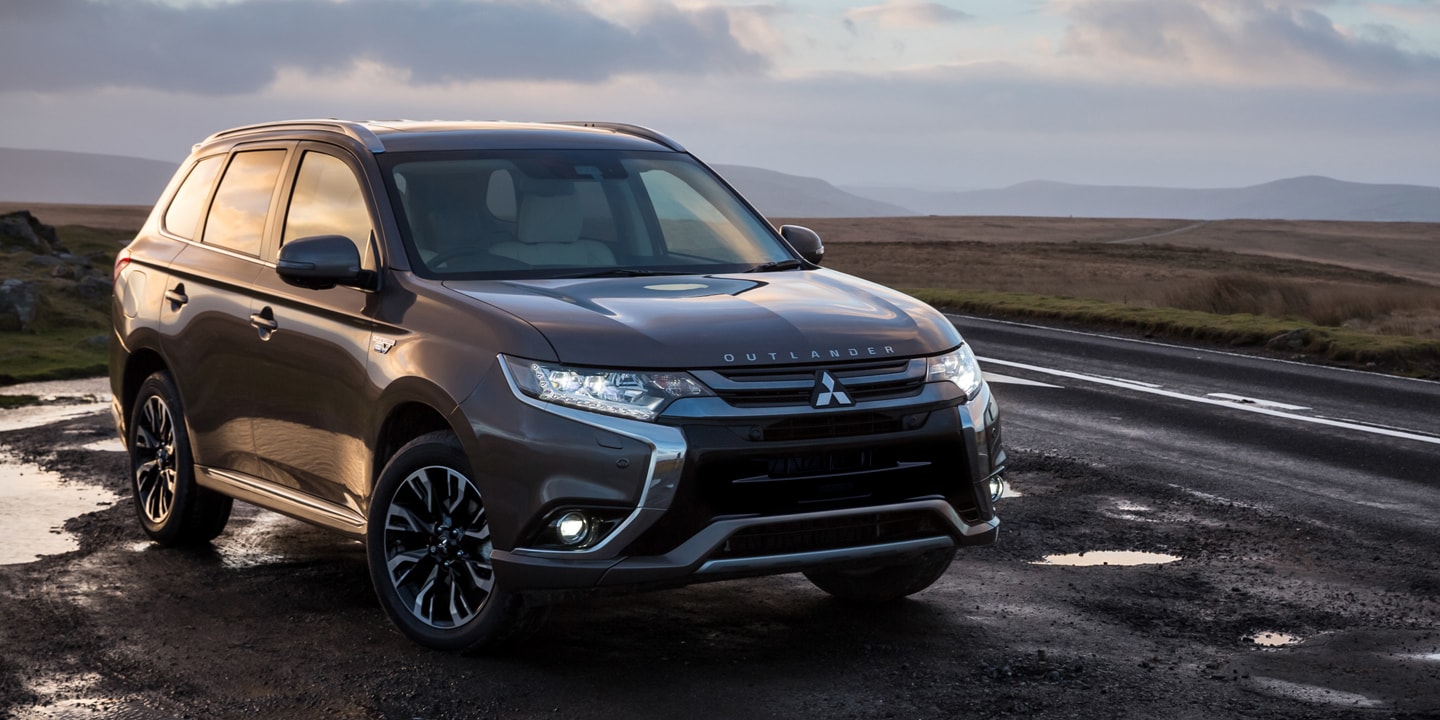 Colorado Review l 2018 Mitsubishi Outlander PHEV
Colorado drivers who are looking for an energy-efficient or green vehicle that is loaded with comfortable features may find a stylish option in the 2018 Mitsubishi Outlander PHEV. You can check out an online review or two about this vehicle to learn more about its exceptional fuel economy as well as its many other functional and convenience features. After all, while you may be interested in buying a green vehicle, you also understandably want to feel confident and comfortable as you cruise down local streets and beyond. Skyline Mitsubishi is your best resource for learning more about this green SUV. When you contact a sales rep by phone or through the website, you can set up a time to test drive it your convenience.
Exterior - Reasons Why You Should Buy the 2018 Outlander PHEV
The exterior of your next vehicle will be ideally appealing to you from an aesthetic standpoint, but it also should have functional features that add to your driving experience. You can easily admire this Mitsubishi and check out all six of the exterior color options available when you head to Skyline Mitsubishi today. As you read through a review about this hybrid SUV, you will learn that the base trim level comes equipped with one-touch power windows, heated windows, hands-free entry, 18 x 7-inch painted alloy wheels, all-season tires, roof rack crossbars, black lug nuts, body side moldings, a hood protector, the exterior package, the chrome package, the body graphics package and more. You can also choose to purchase an upgraded package with other options, or you can opt for a higher trim level. The higher trim level includes features like a sunroof wind deflector and more.
Interior - Why Buy the 2018 Mitsubishi Outlander PHEV
While this hybrid SUV can help you to reduce fuel consumption and can make you feel great about reducing your impact on the environment, it also is perfectly designed for comfort as you cruise through Colorado and beyond. A review of the Outlander PHEV for 2018 may talk about how spacious the cabin is for front and rear seat passengers. There are two color options available for the interior, and leather is a material that is found in even the lowest trim level available. The front passenger's and driver's seats have eight-way power adjustable seats with a heating element to keep you warm on chilly days. This green SUV is also equipped with adaptive cruise control, an exceptional sound system, rear seat easy entry technology, an overhead console for storage and multiple other storage areas throughout the cabin, cup holders, electric power steering with a leather-wrapped steering wheel, audio controls on the steering wheel, front and side cameras, a rearview camera, climate control, dual illuminated vanity mirrors, interior air filtration and a universal remote control transmitter. As amazing as this new model is, keep in mind that these are only the base features for the lowest trim level available. You can choose to add upgraded features to this trim level, or you can purchase a more advanced trim level. Visiting your local dealership in Colorado is an excellent way for you to determine if this is the right hybrid SUV for you to purchase.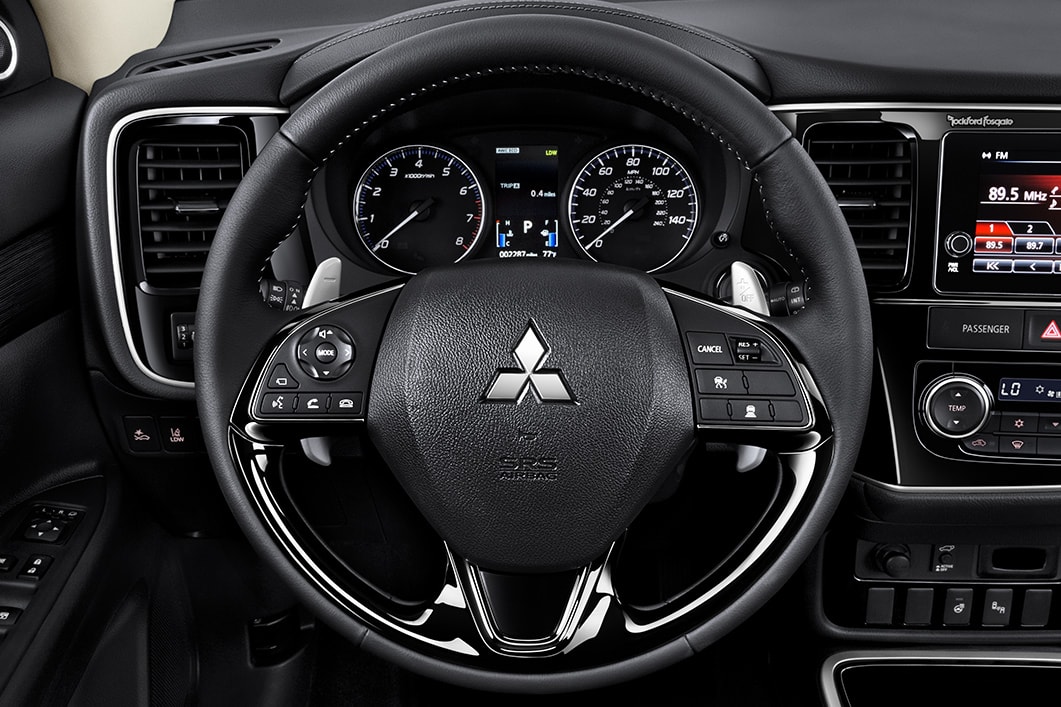 Mechanical / Powertrain
Some people who may be interested in buying a green vehicle like the Outlander PHEV from 2018 may be concerned that this vehicle would not provide the ample amount of performance or the superior handling that you may enjoy with an all-gas-powered vehicle. However, when you test drive this green car, you will thoroughly enjoy its performance and handling capabilities. It has a 2.0-liter, four-cylinder gas and electric hybrid engine. This engine does take some gas, but it uses it conservatively because of its hybrid capabilities. This hybrid SUV also has a one-speed direct drive transmission with all-wheel drive and more. Some car buyers may also be concerned about the warranty that is available with this hybrid SUV. It comes with a seven-year, 100,000 rust warranty and a 10-year, 100,000 powertrain warranty. It also has a five-year, 60,000 basic warranty.
Safety - Why Buy the 2018 Mitsubishi Outlander PHEV
This hybrid Mitsubishi SUV model is designed with fuel economy in mind, but it also has exceptional safety features loaded into it. In fact, it has rather common safety features as well as advanced features that can fill you with a greater sense of confidence. Some of the many safety features available in this hybrid SUV include headrests for all five seats, front and side airbags, a passenger sensors deactivation function for the front passenger, child seat anchors and door safety locks, a blind spot accident avoidance warning system, daytime running lights and an engine immobilizer. It also comes with additional safety features, such as emergency braking assistance, fog lights, a remote anti-theft system, traction and safety control and many others. This hybrid SUV is well-suited for a commuter vehicle, a family transportation option and other purposes.
Request Mitsubishi Information, Quotes or Specials
You can head to your local dealership to learn more about this vehicle, and while you are there, inquire about quotes and special offers on the vehicles that you are most interested in. You may be surprised by how affordable this hybrid SUV is. More than that, you may be able to save a small fortune when you take advantage of special offers.
The sales and financing team at Skyline Mitsubishi wants to help you buy your next car. You can get all of the information that you need to make an informed decision when you reach out to the Skyline team. Now is a great time to call the dealership directly or to schedule an appointment through the Internet.